🔥Summer Sale 30% OFF - Wrinkle Bounce Balm
🚚Free Shipping On Orders Over $48( 7-15days )
DISCOUNT CODE!
New Customer Get 15% OFF [Code: 15OFF]
Buy 2 Get 10% OFF
Buy 3 Get 20% OFF
Add the corresponding number of items to the shopping cart and input CODE at checkout.
---

Instantly Reduce Fine Lines, Wrinkles & Pores

Finally, a do-it-all moisturising balm that heals, hydrates & gives your skin a natural-looking glow.
Our collagen-infused balm melts into your skin to blur fine lines and pores in just seconds!
Just a few swipes of this magic balm stick can help a variety of skin woes. 
Unbeatable Glow On The Go
Never worry about carrying multiple products again! Our tried and true formula combines serums, essences, moisturizers, and lotions into one hygienic tube, so you can look your best even on the go. No need to choose a color. This Boomstick ALREADY MATCHES YOUR SKIN.

The Only Balm That Hydrates & Heals

Our Moisturising Balm stimulates collagen synthesis, leading to improved skin elasticity. Swipe it around your eye, mouth, forehead, neck, or lips for an instant moisture boost that blurs fine lines, wrinkles, and age spots.
Real People, Real Results
98% of customers saw a reduction in wrinkles.
98% of customers said their skin felt more hydrated.
92% of customers said their skin felt smoother.
95% of customers said they would continue to use our Collagen Moisture Balm Stick.
Before we explain our product, let's take a look at our few reviews from recent happy clients!
Jade, a 62-year-old woman gives her report on her wrinkle repair success with our balm treatment. Here's what she has to say:
"I'm so happy I found this miracle product! The level of moisturizing is unbelievable, and my wrinkles have decreased. It rejuvenates my skin and makes me look 15 years younger. This is only my 4th week using it, and this balm will be my regular skincare routine now."
——Jade Brown, Ohio, United States
Rylee, a 43-year-old woman discovered that her face experience heavy wrinkles and drying recently. Let's see her wrinkle-free 8-week rejuvenation: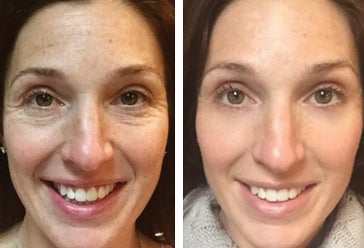 "I love how compact this balm is. It fits perfectly in my pouch and I can use it for touchup anytime. I am 43 and have become increasingly self-conscious of the frown lines on my forehead and crow's feet which make me look tired. I wanted a product that would freshen my appearance. This balm was magical, I felt the tightening sensation upon applying it. After using this balm for almost 5 weeks, the frown lines and crow's feet partially disappeared and my skin tone has evened out! I would recommend this to everyone."
——Rylee Wright, Texas, United States
Why do we have wrinkles?
The skin surface and dermis are made of a web of collagen and elastin fibers that provide stability and suppleness. As people age, skin cells divide more slowly and decrease the production of collagen and elastin. This weakens collagen and elastin fibers, resulting in the formation of wrinkles and fine lines. Moreover, your skin retains less moisture during the aging process, which will speed up the wrinkling process.
Get moisturized at any time, anywhere! Formulated with avocado and glycerin,  Also infused with macadamia ternifolia seed oil to prevent lipid peroxidation and reduces skin cell damage. This antioxidant boost helps to banish skin damage from environmental stress and promote healthy skin. It can also be used as a lip balm. Apply gently around areas prone to fine lines and wrinkles.
We use Jeju natural oils such as Schisandra berries, Carrot root extract, Beta carotene, & carrot seed oil.
These Jeju fermented oils are quick absorbents that prevent oily skin.
It has a high level of affinity with moisture present in the skin, leading to fast absorption that prevents dehydration from stratum cornea.
What makes this Wrinkle Bounce Multi-Moisture Balm special?
Reduce the appearance of fine lines & wrinkles
Help restore elasticity and firmness
Lifts & tighten skin
Moisturize dry skin
Effect result within 8 weeks
Help to make the skin younger.
100% All natural ingredients
Here's one of our satisfied clients, Alexandria, as she attains her flawless skin:
"I'm finishing my 2nd month and my skin is softer, more glowing and healthy, and younger looking for sure. I'm 60 this year and people are thinking I'm in my late 40's. I eat healthily but this product has definitely enhanced my overall well-being. Highly recommend!"
"I wasn't offered any kind of compensation for this review. At 68 years old I can testify that I am an experienced skin care shopper. My skin has never looked this beautiful since before I began my menopausal years. My pores are shrinking, and my wrinkles are gently smoothing out. It is by far the very best skincare line on the market. My two daughters who are young moms have begun using it and several of my "mature" friends have begun using this line as well. I have absolutely nothing to gain by writing this positive review. I just want to share with you my experience with the products and hopefully, you can benefit from it too. You will not regret it, I promise."
Mia Kelly G. --- Portland, Oregon
Ingredients:
Mineral fat, mineral oil, polyisobutylene, Polyester triglyceride, Isopropyl citrate, squalane
How to use:
1. Gently apply the balm by gliding it on your face evenly
2. Use regularly before applying to make up or at bedtime for better results
Net Weight:
Shelf Life:


WHY CHOOSE US?
There is nothing worse than buying products that do not work, so we want you to realize that there's absolutely ZERO risk in buying something and trying it out with us. If you don't like it, no hard feelings. We'll make it right!
Our "Love it or Leave It" guarantee entitles you to a FULL REFUND if you do not see results within 60 days. 
THIS PRODUCT IS NOT RECURRING OR AUTO-SHIP. THIS IS A  ONE-TIME PURCHASE!
UPDATE: We are currently running low on stock. If you don't want to miss out order yours today, please check back next month if it's sold out!
---
✨ FLASH
 DEAL

 

✨

EXTRA 60% OFF When You Order 2+ Items

Save yourself from having to reorder later, give someone the #1 Beauty Hack of 2023 today!

Select Bundles Above

---